MSRS Class 2 (High Powered) Launch Calendar
Small and mid-size rocket launches will start at the times posted and will continue during the Class 2 launches. Class 2 launches will start about 1 hour after the posted start times. Site clean-up will begin on or before 1:00pm. We kindly request a minimal $5 per day donation fee from each guest participating in the launch. This contribution goes towards covering the operational costs of the Section.
Please check this launch schedule regularly. The dates will change as needs arise.
| | |
| --- | --- |
| Saturday, November 18, 2023 | 9:00 AM |
| Saturday, December 16, 2023 | 9:00 AM |
Next Launch Countdown: T-Minus 
A Flight Card is now required for each launch you plan to make during the next launch. To make this easier please complete one for each launch you are planning to make.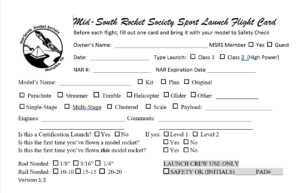 You can download the cards from here. Then handwrite on them or use your computer and enter the data and print them out. If you can't do that, don't worry, we will have printed copies available at the launch site.
The new Flight Cards are a full page with a Pre-Flight Checklist that is to be completed by the flier prior to the Safety Check.