MSRS Class 2 (High Powered) Launch Calendar
All small and mid-size rockets are welcome at these launches
Please check this launch schedule regularly. The dates will change as needs arise.
Saturday, July 23, 2022

*

7:00 AM
Saturday, August 20, 2022
7:00 AM
Saturday, September 17, 2022
8:00 AM
Saturday, October 15, 2022
9:00 AM
Saturday, November 19, 2022
9:00 AM
Saturday, December 17, 2022
10:00 AM
* Rescheduled because of NARAM-63 on July 16-22
Next Launch Countdown: T-Minus 
A Flight Card is now required for each launch you plan to make during the next launch. To make this easier please complete one for each launch you are planning to make.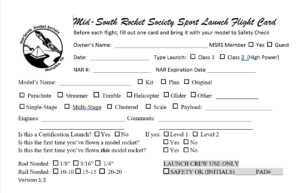 You can download the cards from here. Then handwrite on them or use your computer and enter the data and print them out. If you can't do that, don't worry, we will have printed copies available at the launch site.